AKORIS GARDEN OBELISK LARGE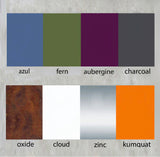 COLORS:
azul, fern, aubergine, charcoal, oxide, cloud, zinc, kumquat
MATERIALS:
Hand welded sturdy steel frame, stainless steel wire, hard wearing/water resistant zero-VOC powdercoat finish or natural oxide finish. Handmade in the USA. Original, copyrighted design by TerraSculpture /TerraTrellis. 

INSPIRATION:
Pyramid greenhouse, classic French garden tuteurs.

FORM & FUNCTION:
Adds artful support and structure for edible or ornamental gardens, great on patios or in the garden, self-standing,
impactful in multiples. Some assembly required.